KEY FEATURES
36-way damping setting is able to adjust the damping settings freely to meet the requirement of street setup and enjoy the hedonics of speed.
There are rubber top mount and pillowball rubber top mount of street McPherson coilover for your options, it also keeps the original comfort setup for 60%.
The major setup of spring rate and damping setting is for daily street comfort use. As far as without effect the setup of daily street use and sometimes can be used for weekend racing.
φ50mm strutφ44mm piston for monotube design-Oil and gas separately to increase the stability damping force. The shock body is made by forged aluminum (6061) to reduce the weight and increase the safety of the shock absorber. Due to this design can avoid the rusty of coilover because it will snow for some countries which will put some salt on the road.
The ride height adjustable function is able to prevent the spring perch to compress the spring and avoid the unusual sound. Besides, this function avoids the situation that you raise or lower the ride height too much and cause the spring perch does not snug the spring, which will damage the coilover. The ride height can be dropped 60~100mm from OE ride height for your reference.
Any application that doesn't appear on our application guide can be customized to meet our customer's requirements.
All applications listed on our website are for 2WD model unless we specify 4WD.
The "model year" defined for each application on our website might be different from the ones in each country; therefore, please confirm the "production years" with us if you cannot make sure.
PILLOWBALL RUBBER TOP MOUNT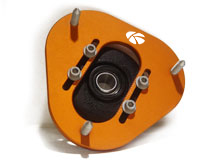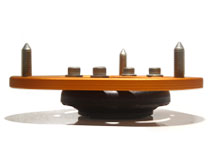 The pillowball rubber top mount is the best product as it is the same as OE top mount and able to eliminate the shock
noise made by the pillowball top mount.
KEY FEATURES
Camber adjustable Pillowball top mount is racing performance product purpose so it is easy to create some shock noise under some circumstances. Some people do care about the unusual sound made by the pillowball top mount; the pillowball rubber top mount is the best choice as it is able to reduce the unusual sound made by the pillowball top mount.
Combined the handling of pillowball top mount and the comfort of stock top mount.
Be able to absorb the jolt like the rubber top mount.
It is suitable for McPherson suspension in street purpose.
HARDENED RUBBER TOP MOUNT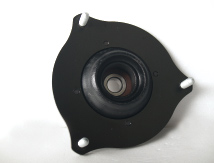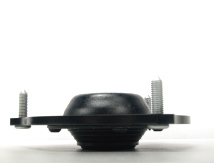 The harden rubber top mount is able to reduce the noise, to extend the life of top mount and increase the ride comfort by
10%